Dental Implants
Dental Implants
Dental Implants Present day's dentistry advancement allows us to replace the missing natural teeth with the most natural looking materials. Dental implant treatment is the best answer nowadays. It has the following benefits.
It looks, feels like there are still natural teeth.
Avoiding to reduce adjacent teeth for conventional bridge.
Actually helping to maintain the jawbones and prevent bone loss.
Maintain a youthful facial structure.
Enhances the quality of daily life where the patients can eat normally. Taste and enjoy the foods you love.
Feel comfortable in public, speak and laugh naturally.
Balance the occlusion system, maintain oral condition, and prevent adjacent teeth from shifting.


The component parts of Dental Implant
1. Fixture is a replacement root made most commonly of titanium which is placed into the jaw in areas where a tooth or teeth have been lost and becomes fused with the bone tissue, which usually takes about 3-4 months depending on the quality of bone in the area of implant.
2. Abutment is a connector which placed on the top of the dental implant to connect the implant to the replacement tooth or teeth. Abutment supports the crowns and transferring the occlusion force from the crowns to the implant and the jawbone.
3. Crown is a top part that replacement tooth, custom made to match your natural teeth.
Dental Implants systems at our clinic
1.Camlog from Germany
(Please see the attached link below)


http://www.accorddental.com/camlog.php
http://www.camlog.com/en


---
2. ITI from Switzerland
(Please see the attached link below)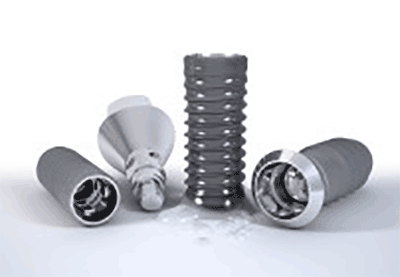 https://www.straumann.com/en/home/about-straumann/products-services-and-solutions/product-portfolio/replacement-solutions.htm

---
3. Zimmer from America (Please see the attached link below)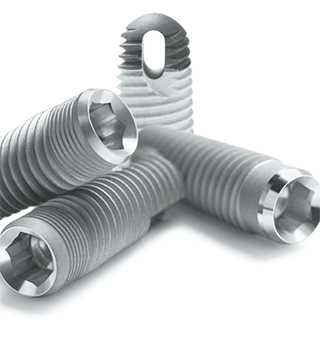 http://www.zimmerbiometdental.com/wps/wcm/connect/dental/5b9001c5-d706-4b5e-a55c-c7cf186bea88/2659A_8_15+SUR-488+TSV+Family+Brochure+DOMESTIC_R7FIN.pdf?MOD=AJPERES&CACHEID=ROOTWORKSPACE.Z18_1O041O02L8PAF0A9JPRUH520H75b9001c5-d706-4b5e-a55c-c7cf186bea88
---
4. Neodent from Switzerland - Brazil


https://www.straumann.com/neodent/ca/en/professionals.html